yo, yo, yo
hope you are all doing fabulously well. As for me, i've still been a busy little bee lately. I've been hard at work with my hard rock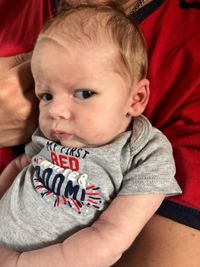 project Splintered Mind as well as trying to schedule time to finish some more of my solo stuff, all whilst trying to do my best at learning how to be a first-time dad! What? Check him out! This is my boy Cole Anthony. As you can see, he's already quite a character and already the biggest part of my life. He came into the world on June 17th and I can't wait to teach him all about the music i love. Hopefully he'll see what i see in it and be moved the way that i am. 
Needless to say, Cole's entrance into the world has taken precedence over just about everything else but i'm still planning on finishing more music, both solo and SM related, before the end of the year. As a matter of fact SM just released another single (our 3rd) this week. You can hear it here if you're so inclined. It's a bit different than our first two releases and it highlights our attitude of making music that has no rules. It still leans toward a hard rock sound but doesn't really sound like anything else out there. I like to say it's like if the Foo Fighters wrote a song with Steely Dan. We're also currently putting the finishing touches on our next release which should be out within a month or two if all goes according to plan. 
Thanks, as always, for your continued support. 
Hope to see you at a show sometime soon.
all the best, 
c